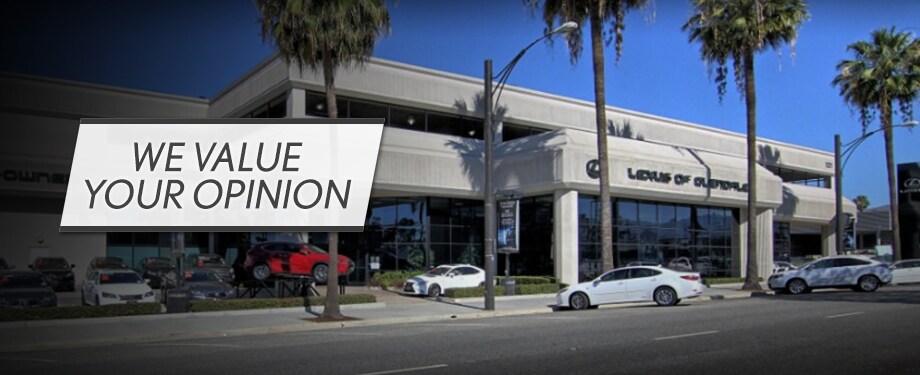 At Lexus of Glendale, we're proud of the cars we sell, the services we provide and the financing we offer, and we hope that they have you coming back time and time again. We strive to consistently provide luxurious service and high-end vehicles to California drivers so they can drive home the perfect Lexus for their lifestyles. We take pride in creating a welcoming, speedy and satisfying shopping environment for customers from all over Los Angeles. Our dealership always makes the customer experience our top priority, and we strive for 100% satisfaction. However, we know there's always room for improvement, and we hope you'll help us!
To that end, we'd love to hear any feedback you may have for the members of our staff or regarding the processes we have in place. The rating bar above will allow you to rate your experiences at Lexus of Glendale. It takes just a minute to give us your thoughts, but your feedback is hugely important to us as we continue to refine our processes.
Thank you for your time, and for choosing Lexus of Glendale!
Hours
Monday

9:00AM - 8:00 PM

Tuesday

9:00AM - 8:00 PM

Wednesday

9:00AM - 8:00 PM

Thursday

9:00AM - 8:00 PM

Friday

9:00AM - 8:00 PM

Saturday

9:00AM - 8:00 PM

Sunday

10:00AM - 7:00 PM